Gennemgang af mobiltelefoner til seniorer
I denne artikel ser vi nærmere på, hvilke mobiler der er på det danske marked (dansk software), som er designet til ældre.
Vi tjekker 4 modeller, som dækker hvert sit behov.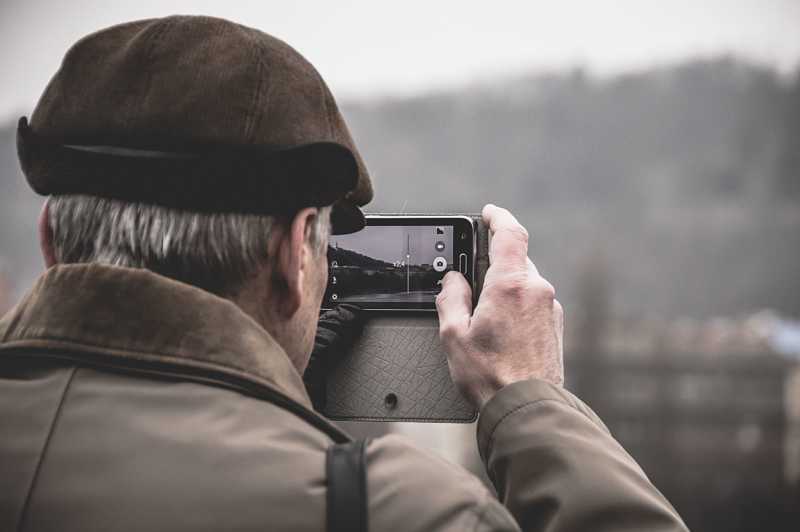 Dette skal mobiler til ældre kunne
Det er det dog ikke kun udformning, display og højtalere, der er vigtig.
God brugervenlighed er bestemt også et must, og den varierer meget fra mærke til mærke og mobil til mobil.
Mange ældre har stadig kun behov for at ringe fra deres mobiltelefon, og så er der ingen grund til at den kan alt muligt andet.
Andre er mere nysgerrige på teknologien og vil måske gerne kunne sende en SMS – eller endda bruge telefonen til at være på internettet, tage billeder og følge med på de sociale medier.
Dét skal du kigge efter, når du leder efter den rette senior-mobil:
Stort display
Store knapper
Høje og tydelige ringetoner
Simpel brugerflade
4 bud på ældre-mobiler
Smartphones har overtaget store dele af mobilmarkedet og de begynder faktisk også, at vinde popularitet blandt de ældre.
Flere af dem er da også blevet meget mere brugervenlige, med god lyd og mulighed for at forstørre skriftstørrelsen i displayet.
Dog er der stadig mange, der foretrækker en mobiltelefon med knapper, som minder lidt mere om de traditionelle fastnettelefoner.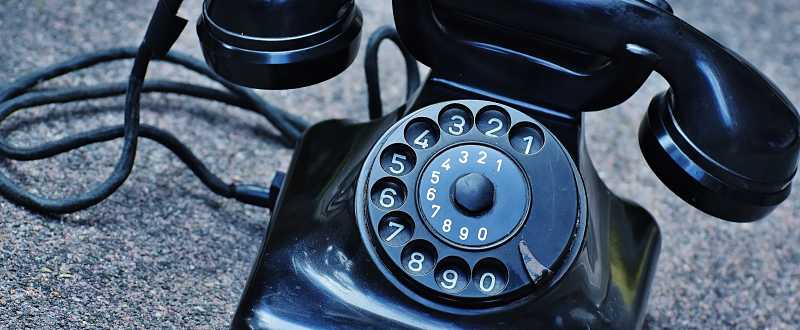 Man må derfor først og fremmest gøre op, hvilke behov man har.
Det er nemlig uheldigt, at ende med en kompliceret mobiltelefon fuld af funktioner, der forvirrer mere, end de gavner.
I det følgende ser vi nærmere på 4 mobiltelefoner.
Vi starter med at se på en ekstra simpel mobiltelefon, så en mere klassisk mobiltelefon, derefter en klaptelefon og endelig en smartphone.
Hvilket mærke og hvilken model der er lettest at finde ud af for netop dig er en smagssag.
Den følgende gennemgang vil dog forhåbentligt gøre dig klogere på dit behov og hvilke krav, du stiller til din mobiltelefon.
1) Den helt simple – Doro Secure 580
Den første mobiltelefon, vi skal kigge på er også den mest simple.
Det særlige ved denne mobiltelefon er det forenklede tastatur, hvor der kan indkodes 4 navne, som kan ringes op med et enkelt tryk. Derudover er der en assistanceknap, hvis du har brug for hjælp.
Telefonen har desuden GPS-positionering og kan sættes til automatisk at sende en besked med din lokation til bestemte numre.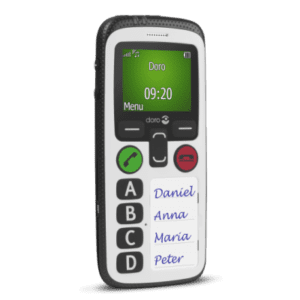 Doro Secure 580
Selve displayet er ikke voldsomt stort, men tallene har en god størrelse og er letlæselige. Endelig har telefonen høj og tydelig lyd og er stænksikker.
Det specielle tastatur gør dog også, at du må give afkald på muligheden for at skrive SMS'er, men du kan godt modtage SMS'er. Dette er mobiltelefonen til brugeren, der ønsker en telefon, der er så simpel som muligt.
>> Doro Secure 580 er set hos Wupti til 999 kr uden abonnement
2) Den klassiske mobiltelefon – Doro PhoneEasy® 530X
Denne mobiltelefon er udformet, som langt de fleste telefoner så ud inden de lidt større smartphones begyndte at tage over.
Den er relativt robust og vandtæt, så den egner sig også godt til en aktiv livsstil med mange timer udendørs.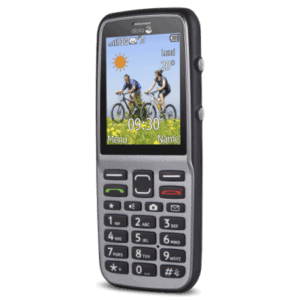 Doro PhoneEasy® 530X
Farveskærmen har en fin størrelse på trods af den forholdsvis lille samlede størrelse på telefonen. Det gør det let at se tallene (og/eller ordene, hvis du har planer om at sende og modtage tekstbeskeder). Også knapperne har en fornuftig størrelse og er opdelt med mellemrum, så de er lettere at ramme.
Derudover er der ekstra funktioner som kamera og lommelygte, der betjenes med én knap. Endelig er telefonen kompatibel med høreapparater (HAC) og har tryghedsknap, så hjælp kan tilkaldes med et enkelt tryk.
>> Doro PhoneEasy® 530X er set hos Wupti til 753 kr uden abonnement.
Der findes rigtig mange mobiltelefon-mærker, og flere af dem har modeller til ældre, som er et voksende marked.
3) Klaptelefon som mellemvejen – Doro 6531
Denne klaptelefon blander det bedste fra to verdener. Den har mange funktioner, som en smartphone, herunder mulighed for at gå på internettet, GPS og indbygget kamera. Den er dog stadig holdt i et simpelt design med almindelige knapper.
Af en klaptelefon at være har den et ganske stort display med tydelige tal og en glimrende lyd. Mange finder det belejligt ved en klaptelefon, at knapperne er gemt væk, når den er lukket sammen.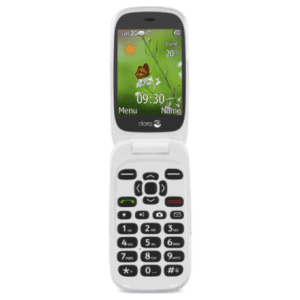 Doro 6531
Af andre funktioner skal nævnes det lille display på fronten, hvorpå du kan se hvem der ringer og HAC, som betyder, at den er kompatibel med høreapparater.
Endelig er der tryghedsfunktioner, som er typisk for Doro. Dette inkluderer en tryghedsknap på bagsiden, hvorved der kan ringes op til en pårørende eller andet med et enkelt tryk, og der kan automatisk sendes en SMS med lokalitetsoplysninger.
Telefonen fås i farverne sort/hvid og sølvfarvet. Modellen stammer fra Doros 65-serie, hvor der også findes nogle lidt billigere modeller med lidt færre funktioner, fx uden gps.
>> Doro 6531 er set hos Wupti til 1312 kr. uden abonnement
4) Med på noderne med en Smartphone – Doro Liberto 825
Har du allerede godt styr på din gamle mobiltelefon og sender måske allerede tekstbeskeder og tager billeder på din nuværende, så er det måske tid til at gå hele vejen og anskaffe en smartphone og dermed få et vælg af funktioner?
Doro Liberto 825 har de samme funktioner som andre smartphones, men er designet til at være intuitiv og brugervenlig.
Det store touch-screen display er let at betjene og skriften er stor og let-læselig. Lyden er høj og tydelig.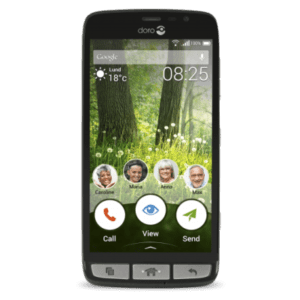 Doro Liberto 825
Telefonen kan gå på det lynhurtige 4G-netværk.
Desuden er en smal sag at surfe løs på internettet, sende e-mails, læse nyheder, spille spil, høre musik, se billeder og film samt gå på de sociale medier, som Facebook.
Kun fantasien sætter grænserne.
Der er indbygget et godt 8 megapixel kamera – så du kan skyde løs til næste familiemiddag.
Af andre funktioner kan nævnes lommelygte og HAC (kompatibelt med høreapparater). Derudover er der en tryghedsalarm med mulighed for nemt at ringe efter hjælp og sende din lokation ved hjælp af den indbyggede gps.
>> Doro Liberto 825 er set hos Wupti til 1839 kr uden mobilabonnement.
Ønsker du et mobilabonnement, kan du tjekke vores prissammenligning på denne side.
Konklusion
Vi har nu set på nogle forskellige bud på mobiltelefoner til seniorer. Ligesom der er stor forskel på telefonerne er der også stor forskel på vores præferencer og behov.
Først og fremmest skal du have afklaret dit behov. Skal din mobiltelefon kun bruges til at ringe fra, sende en SMS, bruge mobildata eller vil du gerne kunne tage billeder og gå på internettet?
Derefter må du vælge form og om du har mod på en Smartphone med touch-screen eller du hellere vil holde dig til en mere traditionel model med knapper.
God mobiljagt!